SUPREMACY
Using the latest in AMD Zen Core Technology, Threadripper delivers access to massively high levels of power to anyone looking to render videos, create video games, calculate massive algorithms, and learn about our world. Supremacy harnesses this power with crème of the crop components designed to last a lifetime. Customizable and upgradable from top to bottom, this system is designed for the consumer who wants the best. No Compromises.

AMD THREADRIPPER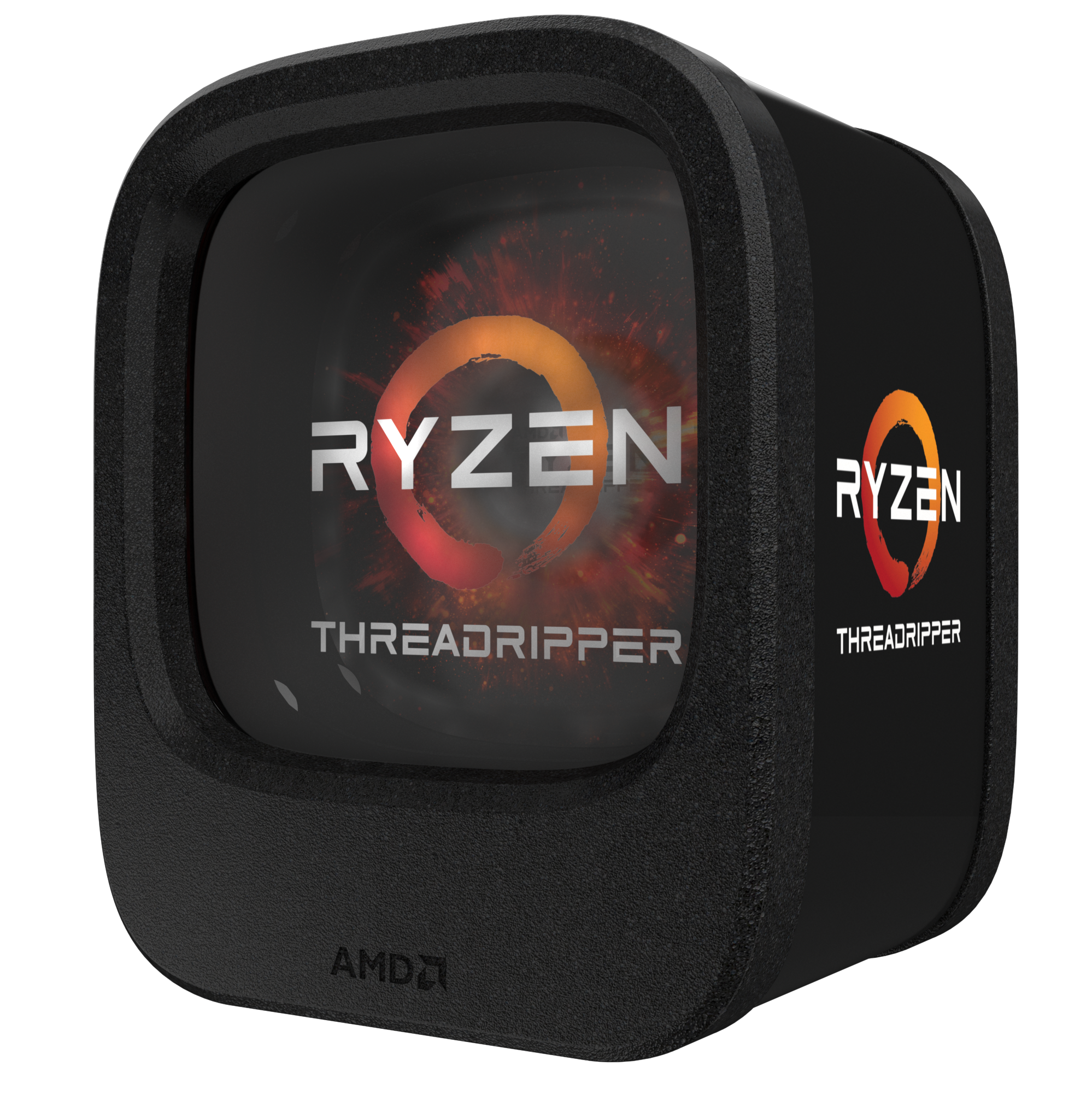 Overwhelming Power.
Experience the most advanced consumer processor ever made.
Mega-task faster than ever before
Do everything. All at the same time.
Render. Stream. Compile. Encode. Work or Play. Threadripper has the power to overwhelm your most daunting workloads.

Unmatched processing power and a platform light years ahead
Threadripper is simply the fastest multi-threaded processor on a consumer desktop PC, ever.
Up to 16 cores provide an astonishing 32 threads of simultaneous multi-processing power, while up to 40MB of combined cache and vast I/O from the enthusiast-grade AMD X399 chipset stand ready to feed the beast.




EFFICIENT
Using distributed embedded sensors in the design that monitor temperature, speed and voltage, and the control center can manage the power consumption in real time. The glue behind this technology comes in form of AMD's new 'Infinity Fabric'.





RADEON PRO SSG
Praetorius is geared for the extravagant. Compatible with AMD's latest in professional graphics, Praetorius' potential is sky high. SSG is already making a difference in ultra-high-resolution 8K video. And no, 8K video isn't just double that of 4K, either. An Ultra HD 4K video is about 8.3 megapixels. An 8K video is 7680x4320, or about 33 megapixels. Current GPUs can play raw 8K video at around 17fps; one with SSG can play the same video at 90+ fps.





Quality Inside & Out
Here at Extreme PC we pride ourselves on offering the highest possible number of configurations for our systems. We believe in the freedom to choose, at the end of the day - it's your system! While the default spec of SUPREMACY is a recommended configuration for professional workstations, it's capable of adapting to your needs. Whether that means adding in extra storage, graphics horsepower, or extra cooling; SUPREMACY is extremely versatile in every way possible.

Next generation Graphics Solutions
From AMD's Polaris and VEGA to NVIDIA's Pascal architecture, SUPREMACY is capable to using the technology that will benefit you the most.
BE FIRST. BE THE PIONEER.
The Radeon Vega Frontier Edition Story
Who are the pioneers? They are the ones who have cured diseases and strengthened our bodies. They work to heal our planet and explore new ones. They work to undo mankind's mistakes and protect the next generation from making them again. Harnessing science to fuel creativity, and employing creativity to drive science. They pursue an unerring, unwavering path towards their goals. There are no barriers, no compromises. They are people who see boundaries as starting lines, and who risk everything in pursuit of innovation. They are the early adopters, the people whose passion is to pursue what is new and different. Their achievements won't be measured in days, weeks or even years. They'll be measured in centuries.


Empower Scientists to Explore New Frontiers
Training techniques used today on neural networks in machine intelligence and deep learning applications have become very complex and require the handling of massive amounts of data when training those networks to recognize patterns within that data. This requires lots of floating point computation spread across many cores, and traditional CPUs can't handle this type of computation as efficiently as GPUs handle it. The Radeon™ Vega Frontier Edition, combined with our ROCm open software platform, paves the way for pioneers to continue pushing boundaries in fields like AI. Developers can now leverage the power of "Vega" architecture to do machine learning algorithm development on the Radeon Vega Frontier Edition graphics card before deploying it out to massive servers equipped with Radeon Instinct accelerators.


Harness Vega to Fuel Creativity
Design visualization is playing an increasingly important role in helping manufacturers streamline design to manufacture workflows. Advanced technologies, including real-time visualization, physically-based rendering and virtual reality (VR), give design and manufacturing firms a powerful arsenal of visualization tools that can be used at all stages of product development. The Radeon™ Vega Frontier Edition graphics card provides the necessary performance required to drive these increasingly large and complex models through the design phase as well as rendering phase of product development. In the media and entertainment market, tasks like video editing, animation, post-production, and virtual reality (VR), require high-end graphics to support these workloads. They depend on compute speed and driver reliability more than ever for shorter load and rendering times. Closer partnerships with top software makers helps pair reliability with the raw power offered by our new Vega GPU architecture.

No Barriers. No Compromises.
Game development is a creatively demanding, time-intensive process and any solution that can streamline game design workflows is an extremely valuable benefit for developers. The Radeon™ Vega Frontier Edition graphics card will simplify and accelerate game creation by providing a single GPU that is optimized for every stage of their workflow, from asset production, to playtesting, to performance optimization. With AMD graphics technology found in many of today's game consoles and PCs, developers can build and optimize next generation games for a large install base on the latest graphics technologies from AMD.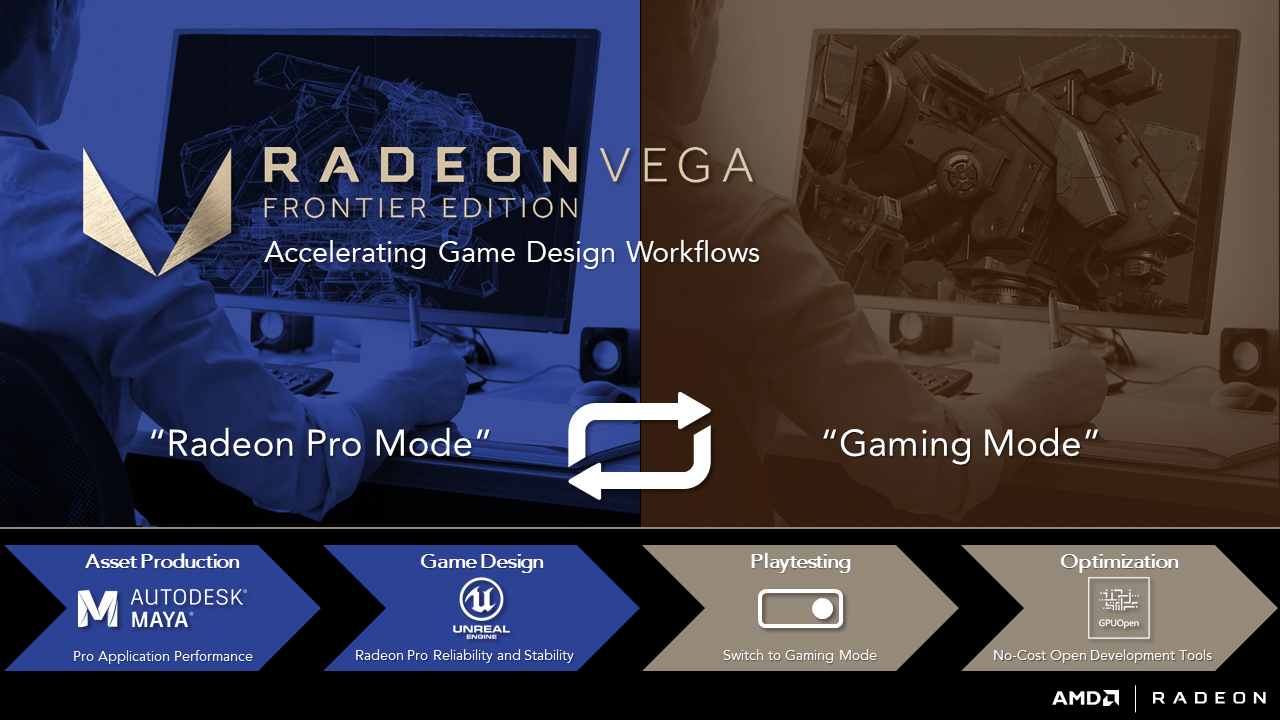 Turbocharged Compute Performance
The Vega GPU introduces the Next-Gen Compute Unit1 that is highly optimised for incredible peak throughput across a range of data types. This NCU makes it possible to deliver higher clock speeds and higher instructions per clock resulting in up to 2X throughput increase over previous designs.
Programmable Geometry Pipeline
In order to handle the increasingly complex geometry in games and modern design environments, we designed a next-gen geometry engine for the Vega GPU. This sophisticated geometry pipeline is more efficient than ever and introduces intelligent load balancing technologies and higher throughput to enable incredible possibilities.
Radeon Software
Enhance your gaming with Radeon Software. Capture, stream and share your greatest moments with Radeon ReLive. Fine tune your performance with Radeon Wattman. Boost efficiency with Radeon Chill.
FreeSync™ Ready
Get ready to experience smooth brilliant HDR gaming with Vega. Enjoy vibrant HDR content while eliminating image tears and choppiness for effortlessly smooth gameplay.
Low Frame-Rate Compensation, Low Latency, Plug and Play and HDR Ready. That's FreeSync.


Solid State Technology: NVMe (Non-Volatile Memory)
NVMe technology is the fastest consumer storage technology today. With up to 60% more power efficiency than it's counterparts, NVMe drives bring your system to an entirely new level never before seen in computing. Never before have we been able to achieve up to 3.5GB/s transfer speeds for such low prices. These drives will allow your system to boot in less than 7 seconds, every application or file you click is available for you instantaneously. We can not describe to you how efficient this allows you to be in daily workflow tasks. There is nothing worse than losing your train of thought while waiting for premier pro to open for an entire minute - for an efficient professional, that's a lifetime.
Silent Operation & Next Generation Cooling Technology
We like our customers to enjoy the speed of our workstations, without hearing them. Small editions to your configuration like Silent fans and coolers can not only make your system completely silent, but last longer as well. Reliability is a key factor in assembling a professional workstation, and here at Extreme PC we take it seriously.
A Footprint to Fit Your Lifestyle
We do not limit you to a single chassis to make our lives easier like our competitors. We allow you to choose from hundreds of different options that feature anything you need from more cooling potential to more space or even better aesthetics!
Room to Breathe
The unique design of Carbide Series Air 740 utilizes dual chambers to deliver cooler air to your CPU, graphics cards, motherboard, and memory without your drives or power supply getting in the way.
Cool it your way
The included Air Series AF140L intake and exhaust fans deliver superior ventilation with less noise. The Air 740 features expansion room for advanced air cooling and water cooling setups.
Industrial-style ergonomics and space-optimized internal design
Offers massive internal volume by moving the power supply, SSD and optical drives into a separate chamber.
Extreme PC Business Systems:
1. We assemble, manufacture, and support our systems here in Canada.
2. Our salesmen do not receive commission.
3. Our systems are hand-made, and run through a 48 hour extreme stress test for quality assurance.
4. The same people who build your machine, support your machine.
5. We carefully cable manage and wire your system for maximum airflow and aesthetics.
6. Extreme PC is a partner with key vendors and will always attack the market with the latest technologies.
7. We do not install any bloatware – no 3rd party software installed for a clean and reliable system.
8. We have comprehensive, long term warranties that include parts and labor - all serviced here in Canada.
We need just 2-3 business days to assemble and test your dream machine from the time you submit your order. This is extremely fast compared to our competition that makes you wait 5-14 business days. In addition to our speedy turn around times, we also offer delivery to local customers (GTA + Kitchener/Waterloo/Guelph Areas).


The Extreme PC Advantage
1. We assemble, manufacture, and support our systems here in Canada.
2. Our salesmen do not receive commission.
3. Our systems are hand-made, and run through a 48 hour extreme stress test for quality assurance.
4. The same people who build your machine, support your machine.
5. We carefully cable manage and wire your system for maximum airflow and aesthetics.
6. Extreme PC is a partner with key vendors and will always attack the market with the latest technologies.
7. We do not install any bloatware – no 3rd party software installed for a clean and reliable system.
8. We have comprehensive, long term warranties that include parts and labor - all serviced here in Canada.


Freedom Of Choice
We believe that beauty is in the eye of the beholder. We let you decide what you want to add into your dream machine. That goes for everything from the type of Chassis you prefer, to what variant of video card you'd like, even down to your preferred color of custom sleeved cables. Most other System Integrators limit you in terms of what version of graphics card you are allowed to buy. We do not limit you to just reference designs like our competitors. Not only do these cards perform better than their reference counterparts, but aesthetically they are on a whole other level!


Build Quality

With over a decade of experience in building high end gaming systems, every pc we assemble is hand crafted by skilled system technicians. Everything from assembly, testing and Q/A are handled by us - in house. This ensures maximum product quality and customer satisfaction. As hardware enthusiasts we understand the importance of aesthetics and attention to detail - every machine we produce is unique and tailored to our customer's needs.
We don't build clones - we use creativity and innovation to bring something new to consumers that gives them the chills time and time again. True Innovation, never gets old.
Cablemod Custom Sleeved Cables
ModFlex™ Sleeving
CableMod cables begin with our signature ModFlex™ sleeving. Softer than traditional nylon sleeving and thinner than competing cloth braiding, this soft cloth braid has been painstakingly developed to give each and every cable a premium look and feel.


Invisible Wires
No matter how much time is spent on cable management, bare wires can ruin the look of any build. With the ultra-dense weave of ModFlex, wires underneath Cablemod cables are completely invisible to ensure that only rich, vibrant color shines through.




Superb Flexibility
Routing cables that are stiff and inflexible behind motherboard trays and around components is an exercise in frustration. With the soft, supple feel of ModFlex sleeving, CableMod cables can easily bend and twist to your liking.




WideBeam - Vibrant LED Color Options
CableMod WideBeam LED Strips not only come in classic colors like red, blue, green, and white, but also in UV. These strips are also available in RGB, complete with convenient remote control and IR receiver which allow you to run a variety of colors and light modes.


Silence

We use the latest in airflow technology to keep our systems cool and quiet. With impeccable designs from brands like Corsair and Noctua we are able bring heat dissipation to a whole new level.


If NASA Designed a Computer Case Fan – This Would Be It
Corsair ML Series of PWM fans magnetic levitation technology and custom engineered rotors provide unrivaled performance and low noise.
Thanks to its innovative design, the ML Series fans delivers both high static pressure and high air flow for a superior fan experience.


Magnetic Bearing
Harnesses magnetic levitation technology to provide lower noise, higher performance, and a longer lifespan

MINIMALIST STYLE. MINIMALIST NOISE.
Elegant external design meets precise acoustic engineering, in an unrivaled blend of beauty, power, and quiet.
Sound damping throughout
Keep your system quiet and cool with high-density sound damping material on both side panels, the front panel, and top panel. It's so quiet, you'll find yourself wondering if your PC is even powered on.

The 600Q is built to keep your PC whisper-quiet, no matter what's running inside. Sound damping material is built into the solid steel front, top and side panels, and the three-speed fan controller lets you pick your optimal noise and cooling performance levels.

Configurator
The Configurator allows a person with limited computer knowledge to make the necessary adjustments to any of our pre-defined system configurations and have it match their horsepower as well as budget requirements!
The Customer can modify all aspects of their new computer and immediately have the system price available in real time, right next to their custom system configuration. In addition to the price, the customer can click the green double arrow button located next to the quoted system price and receive a visual presentation of all the system components selected for the build.

Each system component has a "View" button beside it. When clicked, a full product description and actual cost of component is shown. Should a customer wish to purchase any item separately, they can go back to the main store section of the website and buy the item for that exact price. Each item on the Extreme PC website has detailed information accompanied with actual image(s) of the product.


Extreme PC is the only system builder to show its customer a "Price Trend Graph". Essentially it's a price graph that shows how each item we carry is holding value over the course of last 7 months. Our server monitors over 30 different suppliers and provides this information in a friendly easy to read graph which is located under the main product image of every item we carry. This information allows our customers to make more informed purchases. Additionally, it allows you to see when the last price drop occurred and it shows how much money was saved without any guess work. As a proud Canadian business, we believe in honesty and transparency.
Testing
During our testing period, we ensure that your custom pc will perform at it's best no matter what the conditions. Extensive heat and component location testing over a period of 48 Hours ensures your system arrives at your doorstep locked and loaded for some hard core gaming! If we find that a component is not performing as it should, we swap it out for you during this period causing the consumer less headaches and downtime.
Accessible BIOS
Your computer - your BIOS. It's that simple. We don't hide the BIOS information behind a logo during boot sequence, and we don't limit the access to it either. Instead we set every system's BIOS configuration for maximum performance. As a result, you get your system ready for action out of the box. It is your machine and if you wish to take it to the extremes by overclocking - it is your right to do so. Keep in mind however, you're doing it at your own risk.
(There are limits to every product and we urge to use caution.)




New Technologies

4K Resolution:
---
4K revolutionizes the way you view your games by adding four times as many pixels as commonly used 1920x1080 screens, opening your eyes to rich, superbly-detailed worlds. If you have a high-end Extreme PC, you're ready for the revolution. Just plug and play and you'll immediately receive a flawless, jaw-dropping experience.


High Bandwidth Memory:
---
Another first for AMD with High Bandwidth Memory (HBM)
Introducing HBM, a new type of memory chip with low power consumption, ultra-wide communication lanes and a revolutionary new stacked configuration. HBM's vertical stacking and fast information transfer open the door for truly exciting performance in innovative form factors. And GPU applications are just the start – look for HBM's superior power efficiency and space savings to spark industry-wide innovation.
Virtual Reality Gaming:
---
If you've been around the world of games and tech for a while, it's natural to be just a little cynical about the new wave of virtual reality. It was 20 years ago that consumer-level VR last looked likely to touch down, and if you got burned by Nintendo's ill-fated Virtual Boy or dropped a bundle on the VFX1 Headgear, then you're likely to be looking at the new crop of VR technology with some skepticism.

That was then, and this is now. Introducing the latest in VR technologies the Oculus Rift, and HTC VIVE.

It turns out that your desktop frame rate simply isn't enough. While 60fps is more than acceptable on the desktop, for VR — in which the screen isn't a couple of feet away but right in front of your eyes — to appear smooth requires at least 90fps. You may not consciously notice the difference, but your optic system is a lot more sensitive than you realize. Up close, it takes an uninterrupted 90fps or better to receive seamless visual input rather than a succession of flickering, headache-inducing still images.


Free-Sync & G-Sync:
---
No stuttering. No tearing. Just gaming.

AMD FreeSync™ technology puts an end to choppy gameplay and broken frames with fluid, artifact-free performance at virtually any framerate. Behold the next breakthrough in PC gaming performance. The FreeSync™ technology in select AMD APUs and GPUs resolves the communication issues between processor and monitor, eliminating image tears and choppiness for effortlessly smooth gameplay.


Low Framerate Compensation (LFC)
LFC is an exciting new feature of Radeon Software that effectively extends the refresh rate range of many AMD FreeSync™ displays, enabling pristinely smooth gaming down to 30 FPS or less. Many popular AMD FreeSync™-ready monitors automatically use LFC when Radeon Software Crimson Edition (or later) is installed.


G-SYNC
NVIDIA G-SYNC is groundbreaking new display technology that delivers the smoothest gaming experience ever. G-SYNC's revolutionary smoothness is achieved by synchronizing display refresh rates to the GPU in your GeForce GTX-powered desktop or notebook, eliminating screen tearing and minimizing display stutter and input lag. The result: scenes appear instantly, objects look sharper, and gameplay is super smooth, giving you a stunning visual experience and a serious competitive edge."


High Refresh Rates:

---
144hz Refresh Rate Monitors
Gaming monitors refresh screens 144 times per second – 2.4 times faster than conventional 60Hz displays, producing natural-looking and blur-free in-game movements. Perfect for fast-paced racing and FPS games, experience ultra-smooth action in everything you do.




Having the advantage of 144hz is almost like cheating. Seeing 2x what your opponent see's in game is an immense advantage. With a high refresh rates you can move around your game able to see every detail at all times - even when your running or spinning around. This gives you the drop on anyone using a low refresh rate display. If you game competitively - 144hz or higher is a MUST!


EXTREME PC TEAM

Team XPC works for you, you're the boss. You won't be dealing with anonymous overseas agents that don't know you or what your system specs are. This dedicated team consists of the same knowledgeable veterans and knowledgeable system integrators that build and test our units in the XPC factory in Guelph, ON. Personalized service doesn't get any better.


- Extreme PC is 100% Canadian owned and operated.