CUSTOMIZE YOUR GHOST AND GEAR
FORGET YOUR UNIFORMS AND STANDARD ISSUE GEAR -- IN GHOST RECON WILDLANDS YOU'LL CHOOSE EXACTLY WHAT KIND OF SPECIAL OPERATIVE YOU WANT TO BE. YOU'LL BEGIN YOUR JOURNEY IN THE WILDLANDS BY DECIDING WHO YOU ARE AND PICKING THE GEAR YOU WANT TO BRING INTO THE FIELD.
WHEN CREATING YOUR CHARACTER, YOU'LL HAVE THE ABILITY TO CUSTOMIZE YOUR GENDER, FACIAL FEATURES, HAIRSTYLE, TATTOOS, AND MUCH MORE. YOU'LL GAIN ACCESS TO A WIDE RANGE OF CLOTHING, TACTICAL GEAR, AND ACCESSORIES TO GIVE YOUR GHOST A PERSONALIZED LOOK. YOU CAN HUNT DOWN THE CARTEL IN FULL TACTICAL GEAR OR USE CIVILIAN CLOTHING IF YOU PREFER THE STYLE OF THE BOLIVIAN LOCALS. WITH THE ABILITY TO TWEAK EVERY PIECE OF YOUR OUTFIT, AND BILLIONS OF AVAILABLE COMBINATIONS, HOW YOU LOOK IS UP TO YOU.
CHOOSE YOUR LOADOUT
AS AN ELITE SQUAD WITH ACCESS TO THE LATEST MILITARY TECH, THE GHOSTS DECIDE WHAT WEAPONS OR TOOLS TO BRING TO THE FIELD. CHOOSING WHAT GUNS TO ADD TO YOUR LOADOUT WILL LET YOU ENGAGE WITH YOUR TARGETS ANY WAY YOU LIKE. WHETHER YOU PREFER TO GO UNSEEN WITH LONG-RANGE RIFLES AND SILENCED HANDGUNS, OR BREAK DOWN THE FRONT DOOR WITH ASSAULT RIFLES AND SHOTGUNS, THE GHOSTS' TRUE-TO-LIFE ARSENAL WILL GIVE YOU THE TOOLS YOU'LL NEED FOR THE JOB.
AND YOU'LL DO MORE THAN SIMPLY CHOOSE YOUR FIREARM – ALL FIREARMS IN THE GAME ARE FULLY CUSTOMIZABLE, ALLOWING YOU TO SWAP OUT ATTACHMENTS TO TWEAK VARIOUS ATTRIBUTES OF YOUR WEAPONRY. THE IN-GAME GUNSMITH ALLOWS YOU TO SWAP OUT OPTICS, MUZZLES, MAGAZINES, STOCKS, AND MUCH MORE, ALL OF WHICH WILL AFFECT THE PERFORMANCE OF YOUR WEAPON. YOU'LL BE ABLE TO TWEAK YOUR FIREARM'S NOISE, ACCURACY, DAMAGE, RATE OF FIRE, RANGE, HANDLING, AND PENETRATION, GIVING YOU TOTAL CONTROL OVER HOW YOU APPROACH YOUR MISSIONS.
PICK YOUR TRANSPORT
THE SANTA BLANCA CARTEL HAS ROOTS ALL ACROSS THE BOLIVIAN LANDSCAPE, AND YOUR SQUAD WILL NEED TO CHOOSE HOW TO TRAVERSE THE COUNTRY'S WINDING ROADS AND OFF-ROAD TERRAIN. YOU'LL ENCOUNTER A WIDE VARIETY OF VEHICLES ON YOUR MISSION ACROSS THE WILDLANDS, AND YOU'LL BE ABLE TO GET BEHIND THE WHEEL OF EVERY VEHICLE YOUR SQUAD COMES ACROSS.
GHOST RECON WILDLANDS OFFERS MORE THAN 60 VEHICLES FOR ALL TYPES OF TERRAIN. YOU'LL BE ABLE TO TRAVERSE LAND IN BUGGIES, PICKUPS, MOTORBIKES, AND MORE, OR YOU CAN TAKE TO SEA AND AIR WITH MULTIPLE TYPES OF BOATS AND AIRCRAFT. YOU MIGHT EVEN FIND RARE VEHICLES SUCH AS SUPERCARS AND MILITARY-GRADE TRANSPORTS TO AID IN YOUR MISSION AGAINST THE CARTEL.
PERFORMANCE
The Tesseract is aimed towards the enthusiast gamer that want's the best of the best. This system is geared for high refresh rates and resolutions far above the industry standard. Equipped with AMD's latest X370 chipset, this system can handle anything you throw at it; from streaming, to recording, to hardcore rendering and development.
AMD RYZEN R7 Series CPU's

The "Zen" core is an all-new "clean sheet" x86 processor design that's inspiring a new generation of high-performance AMD computing products in 2017 and beyond. "Zen" combines the latest thinking in high-throughput and low-power design methodologies to create a balanced and versatile architecture right at home in the desktop, laptop, datacenter and supercomputer.
"Zen" cores are designed to efficiently use available microarchitectural resources for optimal compute performance. Compared to our previous architecture, three-tier cache system and new pre-fetch algorithms enable dramatically higher throughput in the cache and execution engines.
Cloud computing, enterprise productivity, immersive visual experiences, gaming and data security open up new frontiers – and demand more computing performance with maximum energy efficiency. From the very beginning, AMD engineers designed the new "Zen" core to meet those demands with a high-performance execution engine, large caches, and powerful multi-threading capabilities.
The new AMD AM4 Platform puts effortless compatibility front and center. Our new 1331-pin processor socket works with the 7th Gen AMD APU, AMD Ryzen CPU, and the upcoming "Raven Ridge" APU. The one Socket AM4 motherboard you buy will work with any AM4 processor! And with support for the latest I/O standards like USB 3.1 Gen 2, NVMe, or PCI Express® 3.0, it's easy to build a high-performance system that can grow with your needs.
CROSSHAIR VI HERO
HOLLOW HEAT-SINK WITH RED-HOT STYLE
Our new heat-sink is finely engineered with an innovative perforated design for maximum heat dissipation. On its top are expertly angled facets that allow light from the platform controller hub to penetrate through — so your builds stand out unlike any other!
ROG WATER COOLING ZONE
ROG's innovative Water-Cooling Zone lets you monitor your cooling system like never before. ROG Water-Cooling Zone's dual water-temperature headers and flow-rate header feed information straight into ROG's intuitive Fan Xpert 4 utility ─ so you can stay on top of the heat and stay cool in every game!
AURA LIGHTING CONTROL
Customize your own favorite LED effects with Aura, the intuitive lighting-control software, to cast a stunning multi-color glow across your build via the ROG Crosshair VI Hero's brilliant built-in RGB LEDs or attached RGB strips via the two onboard 4-pin headers ─ all lights will perform in perfect synchronization! Fire up Aura and enjoy the creative freedom of nine different lighting schemes.
NEW SUPREMEFX CODEC
ROG's awesome SupremeFX audio technology has levelled up, delivering an exceptional 113dB signal-to-noise ratio on the line-in connection and 120dB on line-out — and that means our best-ever recording quality! We've also added a low-dropout regulator for cleaner power delivery to the SupremeFX S1220 codec, an ESS® Sabre Hi-Fi ES9023P digital-to-analog converter for superior front-panel output, and a Texas Instruments® RC4850 op-amp for high gain with low distortion — which all adds up to audio that envelops you as never before.
SONIC STUDIO III
ROG's Sonic Studio III audio effects station has been updated with an all-new routing feature to port streams to different outputs as well as app-level preferences for instant audio profiles and improved noise filtering for conversations with total clarity!
SONIC RADAR III
Sonic Radar III is all-new – with an evolved audio engine that processes sounds more accurately than ever, ensuring you're always aware of what's going on around you. A new on-screen arrow has also been added to help you pinpoint the enemy position instantly!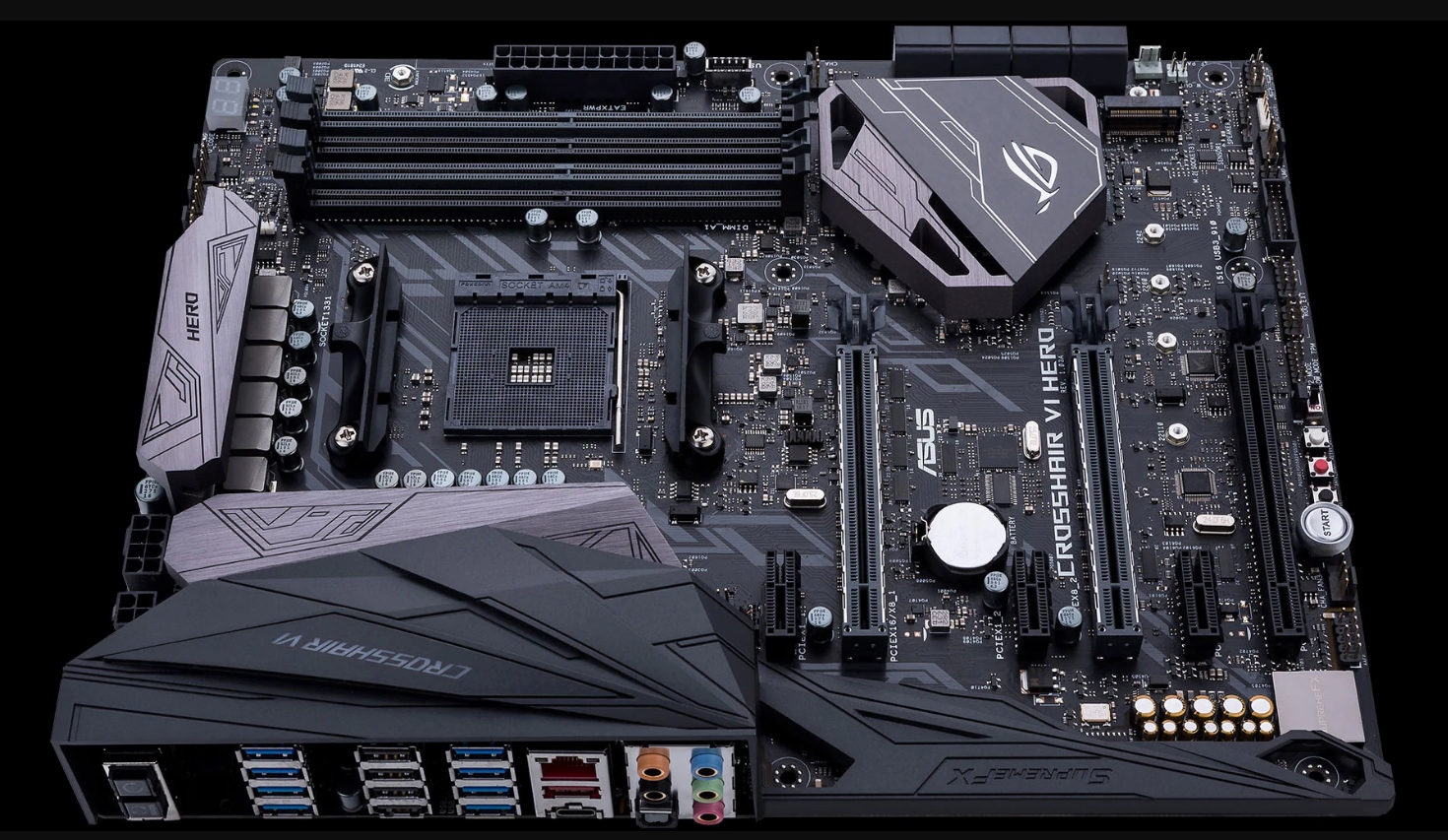 MAKE IT YOUR OWN
ASUS is the first motherboard manufacturer to support 3D printing, making it easy to customize your motherboard's appearance and improve system performance with a range of printable parts.
ASUS NVIDIA GTX 1080ti STRIX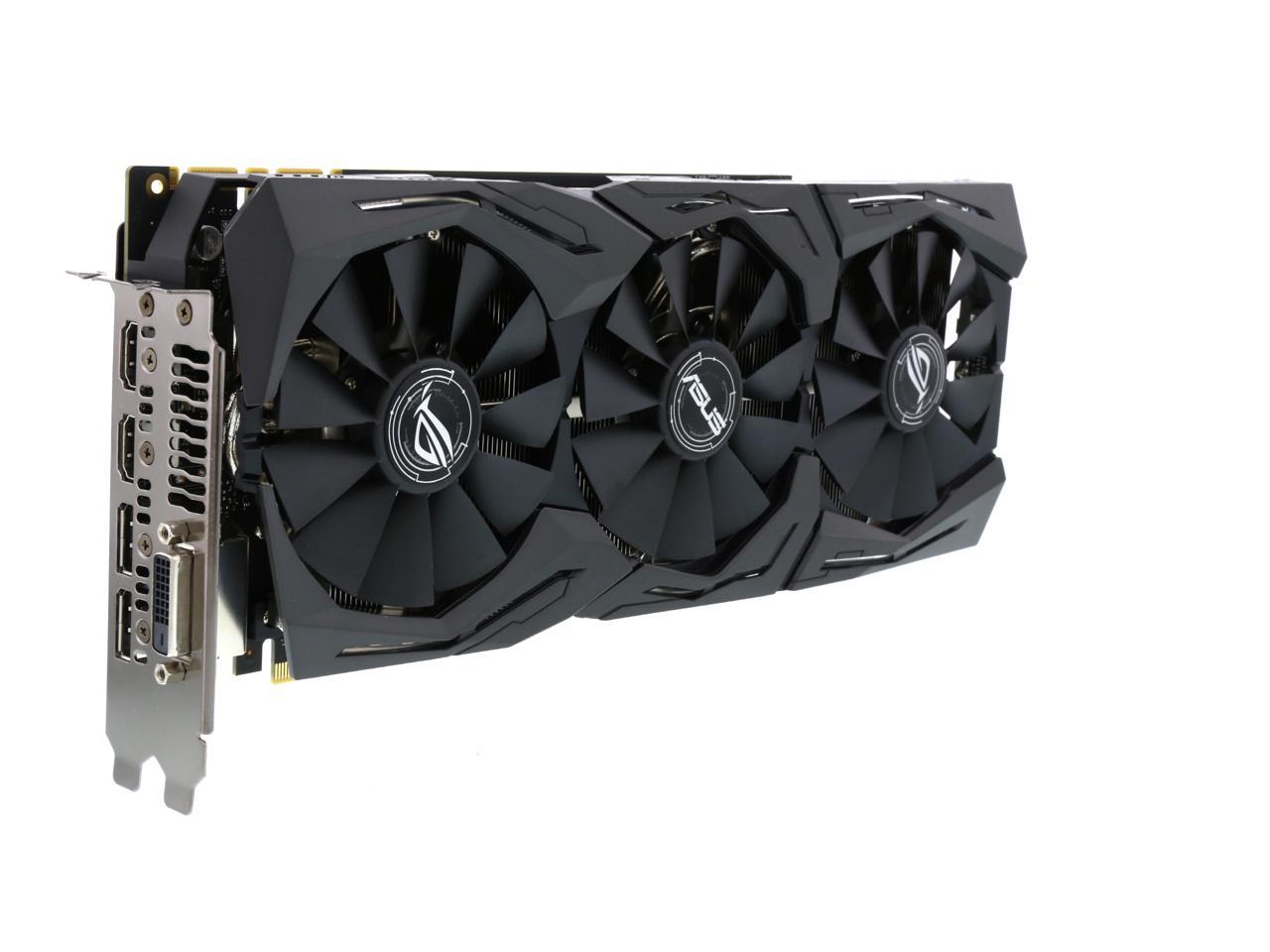 GAME COOL AND PLAY SILENT
40% More Heat Dissipation Area
Up to 30% Cooler and 3X Quieter Gaming Performance
New ROG Strix graphics are constructed with a 2.5-slot width, providing 40% more heat sink surface area for heat dissipation compared to previous 2-slot designs for dramatically cooler and quieter performance.
MaxContact Technology
2X More Contact with GPU for Improved Thermal Transfer
MaxContact is an industry-first GPU cooling technology, featuring an enhanced copper heat spreader that directly contacts the GPU. MaxContact utilizes precision machining to provide a surface that makes up to 2X more contact with the GPU than traditional heat spreaders, resulting in improved thermal transfer.
Patented Wing-Blade Design
Max Air Flow with 105% More Air Pressure
Patented wing-blade fans delivers maximum air flow and 105% greater static pressure over the heat sink, while operating at an up to 3X quieter volume than reference cards.
ASUS FanConnect II
Optimal System Cooling
ASUS FanConnect II features two 4-pin, hybrid-controlled headers that can be connected to both PWM and DC system fans for optimal system cooling. The connected fans reference both the GPU and CPU, operating automatically based on the one with the higher temperature. A comprehensive set of tuning options allow you to tune fan speeds for efficient cooling.
0dB Technology
Game in Complete Silence
Innovative 0dB technology stops the fan completely when the GPU temperature remains below a set level*, letting you enjoy light gaming in complete silence.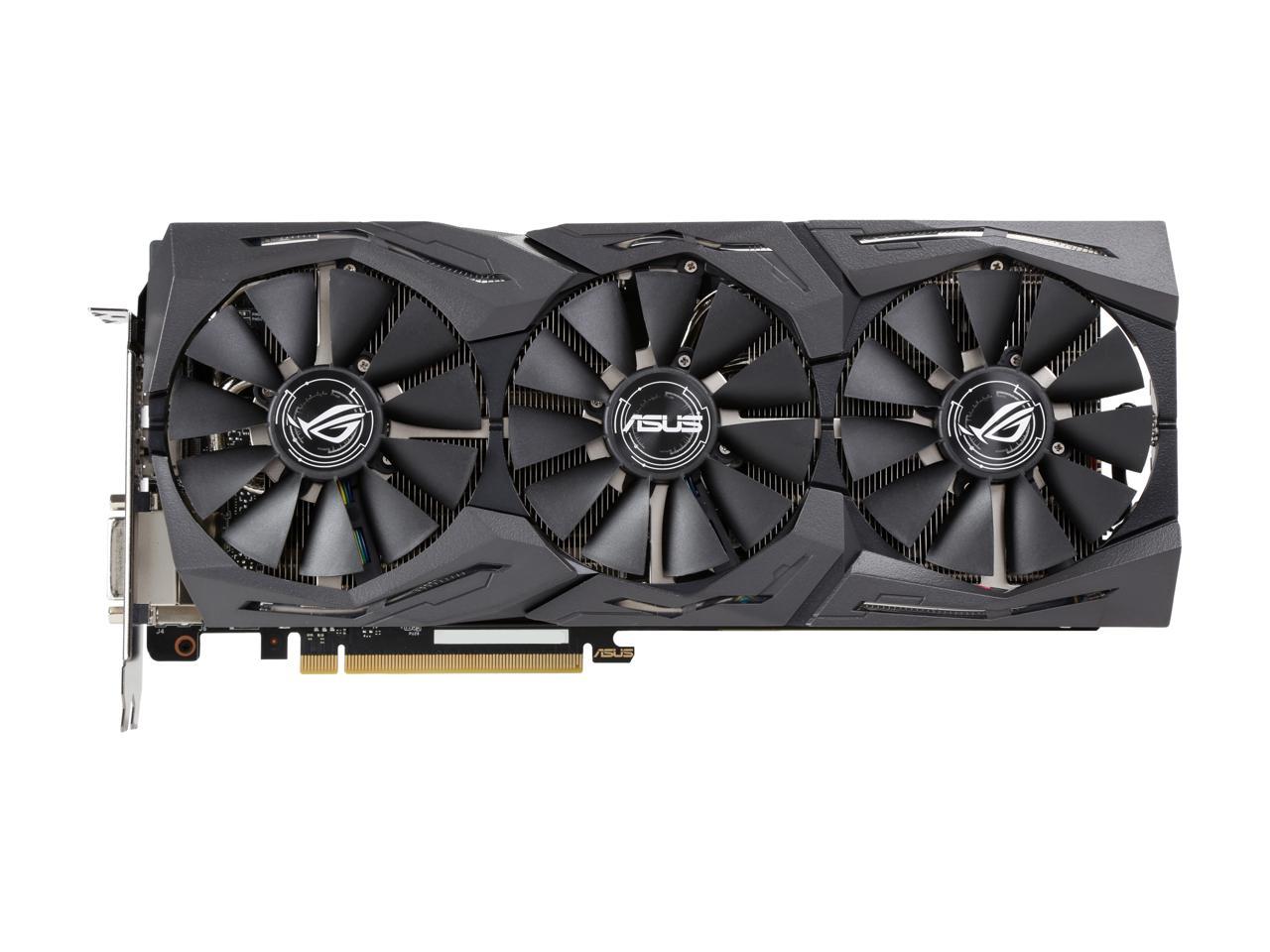 PREMIUM QUALITY AND BEST RELIABILITY
Auto-Extreme Technology
Industry-only 100% Automated Production Process
All ASUS graphics cards are now produced using Auto-Extreme Technology, an industry-exclusive, 100% automated production process that incorporates premium materials to set a new standard of quality. Auto-Extreme Technology ensures consistent graphics card quality as well as improved performance and longevity. Since the introduction of Auto-Extreme technology, reliability has improved by 30%. This new manufacturing process is also environmentally friendly, eliminating harsh chemicals and reducing power consumption by 50%.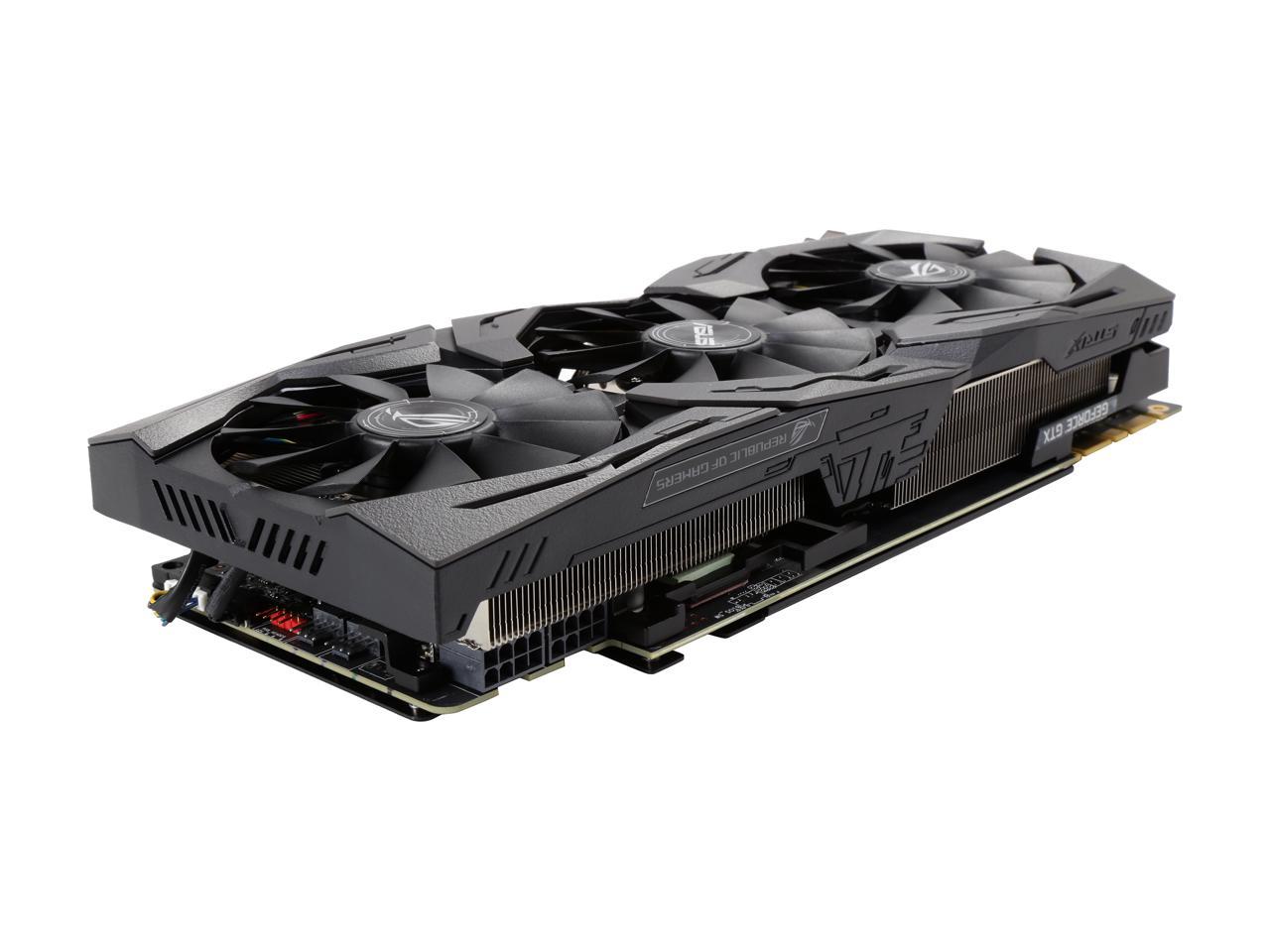 10+2 Phase Super Alloy Power II
Enhanced Durability and Efficiency
ASUS engineers have integrated premium alloy components into their graphics card designs to reinforce overall reliability. Super Alloy Power II components greatly enhance efficiency, reduce power loss and achieve thermal levels that are approximately 50% cooler than previous designs.
PERSONALIZED GAMING STYLE
ASUS Aura Sync
Outshine The Competition
Featuring Aura RGB Lighting on both the shroud and backplate, ROG Strix graphics cards are capable of displaying millions of colors and six different effects for a personalized gaming system. ROG Strix graphics cards also feature ASUS Aura Sync, RGB LED synchronization technology that enables complete gaming system personalization when the graphics card is paired with an Aura-enabled gaming motherboard.
GEAR UP FOR THE ULTIMATE GAMING EXPERIENCE
Enjoy the Flawless and Complete Gameplay
The Best Combo for Ultra-smooth Gaming
NVIDIA G-SYNC™ synchronizes the ROG Swift gaming monitor's refresh rate to the GPU in your GeForce® GTX-powered PC, eliminating screen tearing and minimizing display stutter and input lag. With ROG Strix gaming graphics cards and ROG Swift gaming monitors, scenes appear instantly, objects look sharper, and gameplay is super smooth, giving you a stunning visual experience and a serious competitive edge.
Gaming Performance, Brilliantly Boosted
Boost Game in SLI Configuration with ROG SLI HB Bridge
The all-new ROG SLI HB (High-Bandwidth) Bridge doubles the available transfer bandwidth of the previous generation to deliver gloriously detailed graphics and silky smooth gameplay. Support for multiple 2-way configurations — both 3-slot and 4-slot — provide maximum flexibility. ROG SLI HB Bridge features ASUS-exclusive Aura RGB lighting that displays millions of colors to express your unique gaming style, and Aura Sync technology that perfectly synchronizes lighting for a system that really shines.
INWIN 904 Brushed Aluminum Chassis
904 PLUS is constructed with one piece aluminium along with the chamfered edge design, sleek anodized aluminium material and In Win LED logo that are beautifully make it a masterpiece.
Tempered Glass Side Panels
Both side panels of 904 PLUS are finished with tinted tempered glass which offers not only great protection, but also allows you to enjoy the running system inside out.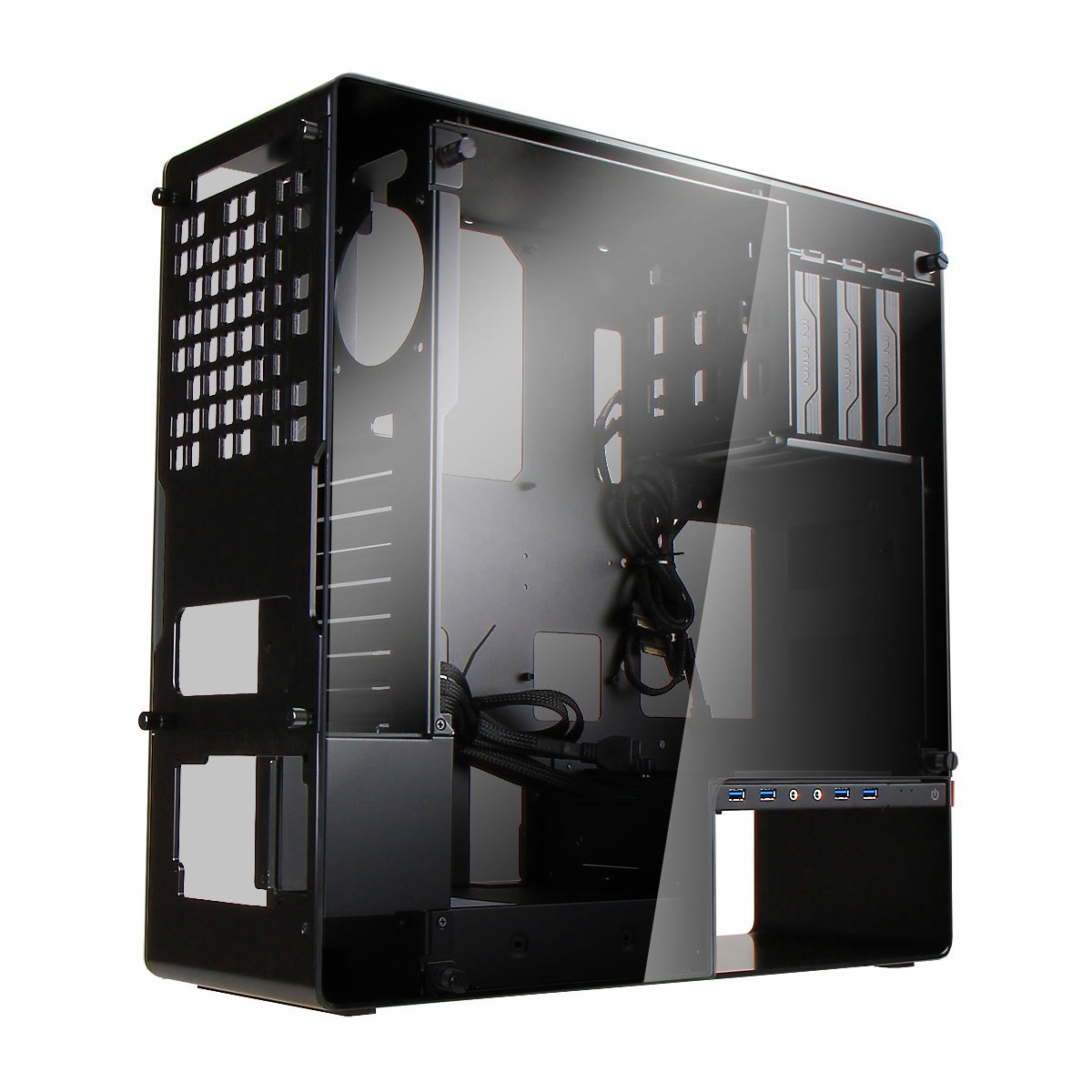 Extreme simplicity design
904 PLUS features a single piece 4mm brushed aluminium shell and an elegant back panel that hides unnecessary rear I/O cables. Not only is it clutter-free, but its design also demonstrates the elegant aesthetics of simplicity.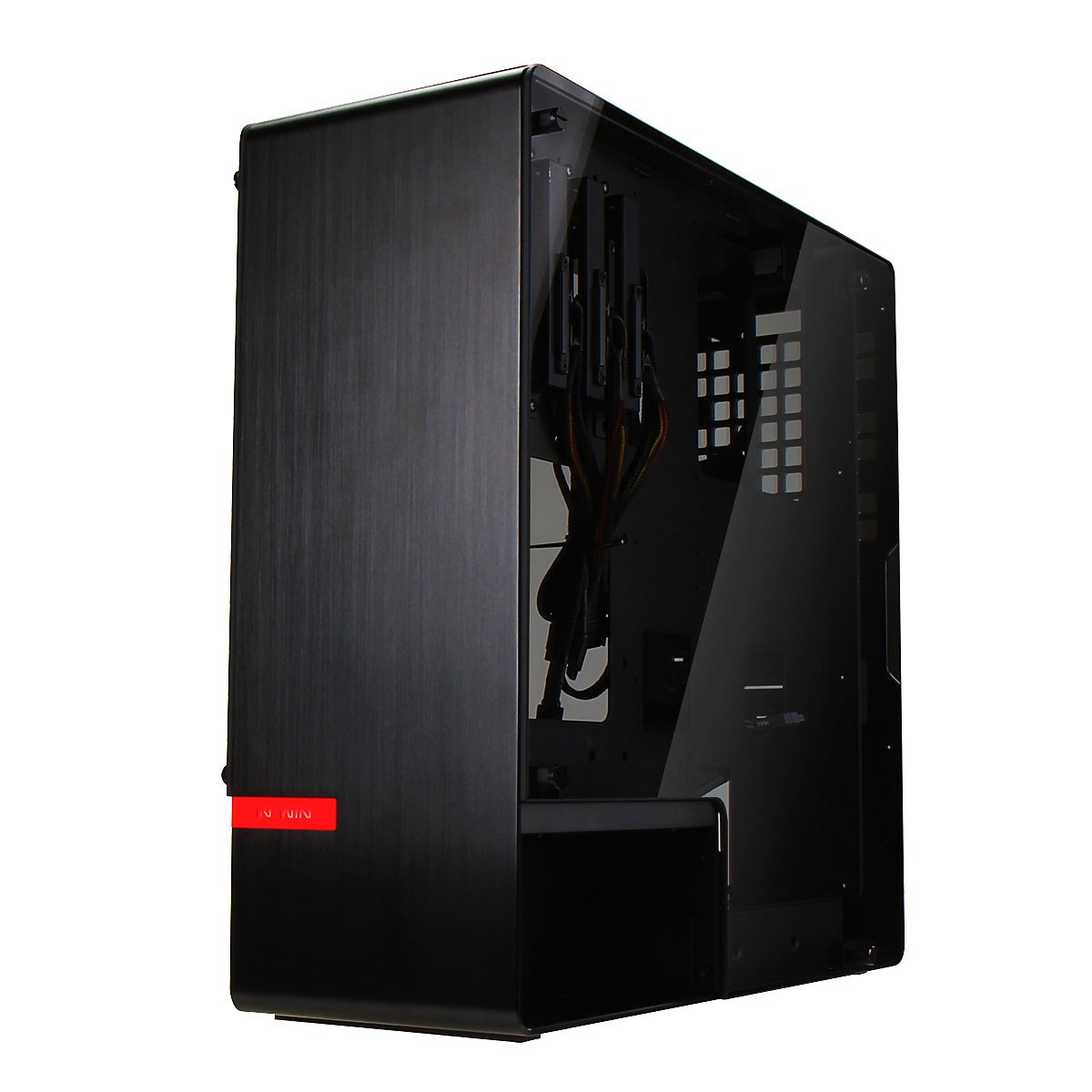 We need just 2-3 business days to assemble and test your dream machine from the time you submit your order. This is extremely fast compared to our competition that makes you wait 5-14 business days. In addition to our speedy turn around times, we also offer delivery to local customers (GTA + Kitchener/Waterloo/Guelph Areas).


The Extreme PC Advantage
1. We assemble, manufacture, and support our systems here in Canada.
2. Our salesmen do not receive commission.
3. Our systems are hand-made, and run through a 48 hour extreme stress test for quality assurance.
4. The same people who build your machine, support your machine.
5. We carefully cable manage and wire your system for maximum airflow and aesthetics.
6. Extreme PC is a partner with key vendors and will always attack the market with the latest technologies.
7. We do not install any bloatware – no 3rd party software installed for a clean and reliable system.
8. We have comprehensive, long term warranties that include parts and labor - all serviced here in Canada.


Freedom Of Choice
We believe that beauty is in the eye of the beholder. We let you decide what you want to add into your dream machine. That goes for everything from the type of Chassis you prefer, to what variant of video card you'd like, even down to your preferred color of custom sleeved cables. Most other System Integrators limit you in terms of what version of graphics card you are allowed to buy. We do not limit you to just reference designs like our competitors. Not only do these cards perform better than their reference counterparts, but aesthetically they are on a whole other level!


Build Quality

With over a decade of experience in building high end gaming systems, every pc we assemble is hand crafted by skilled system technicians. Everything from assembly, testing and Q/A are handled by us - in house. This ensures maximum product quality and customer satisfaction. As hardware enthusiasts we understand the importance of aesthetics and attention to detail - every machine we produce is unique and tailored to our customer's needs.
We don't build clones - we use creativity and innovation to bring something new to consumers that gives them the chills time and time again. True Innovation, never gets old.
Cablemod Custom Sleeved Cables
ModFlex™ Sleeving
CableMod cables begin with our signature ModFlex™ sleeving. Softer than traditional nylon sleeving and thinner than competing cloth braiding, this soft cloth braid has been painstakingly developed to give each and every cable a premium look and feel.


Invisible Wires
No matter how much time is spent on cable management, bare wires can ruin the look of any build. With the ultra-dense weave of ModFlex, wires underneath Cablemod cables are completely invisible to ensure that only rich, vibrant color shines through.




Superb Flexibility
Routing cables that are stiff and inflexible behind motherboard trays and around components is an exercise in frustration. With the soft, supple feel of ModFlex sleeving, CableMod cables can easily bend and twist to your liking.




WideBeam - Vibrant LED Color Options
CableMod WideBeam LED Strips not only come in classic colors like red, blue, green, and white, but also in UV. These strips are also available in RGB, complete with convenient remote control and IR receiver which allow you to run a variety of colors and light modes.


Silence

We use the latest in airflow technology to keep our systems cool and quiet. With impeccable designs from brands like Corsair and Noctua we are able bring heat dissipation to a whole new level.


If NASA Designed a Computer Case Fan – This Would Be It
Corsair ML Series of PWM fans magnetic levitation technology and custom engineered rotors provide unrivaled performance and low noise.
Thanks to its innovative design, the ML Series fans delivers both high static pressure and high air flow for a superior fan experience.


Magnetic Bearing
Harnesses magnetic levitation technology to provide lower noise, higher performance, and a longer lifespan

MINIMALIST STYLE. MINIMALIST NOISE.
Elegant external design meets precise acoustic engineering, in an unrivaled blend of beauty, power, and quiet.
Sound damping throughout
Keep your system quiet and cool with high-density sound damping material on both side panels, the front panel, and top panel. It's so quiet, you'll find yourself wondering if your PC is even powered on.

The 600Q is built to keep your PC whisper-quiet, no matter what's running inside. Sound damping material is built into the solid steel front, top and side panels, and the three-speed fan controller lets you pick your optimal noise and cooling performance levels.

Configurator
The Configurator allows a person with limited computer knowledge to make the necessary adjustments to any of our pre-defined system configurations and have it match their horsepower as well as budget requirements!
The Customer can modify all aspects of their new computer and immediately have the system price available in real time, right next to their custom system configuration. In addition to the price, the customer can click the green double arrow button located next to the quoted system price and receive a visual presentation of all the system components selected for the build.

Each system component has a "View" button beside it. When clicked, a full product description and actual cost of component is shown. Should a customer wish to purchase any item separately, they can go back to the main store section of the website and buy the item for that exact price. Each item on the Extreme PC website has detailed information accompanied with actual image(s) of the product.


Extreme PC is the only system builder to show its customer a "Price Trend Graph". Essentially it's a price graph that shows how each item we carry is holding value over the course of last 7 months. Our server monitors over 30 different suppliers and provides this information in a friendly easy to read graph which is located under the main product image of every item we carry. This information allows our customers to make more informed purchases. Additionally, it allows you to see when the last price drop occurred and it shows how much money was saved without any guess work. As a proud Canadian business, we believe in honesty and transparency.
Testing
During our testing period, we ensure that your custom pc will perform at it's best no matter what the conditions. Extensive heat and component location testing over a period of 48 Hours ensures your system arrives at your doorstep locked and loaded for some hard core gaming! If we find that a component is not performing as it should, we swap it out for you during this period causing the consumer less headaches and downtime.
Accessible BIOS
Your computer - your BIOS. It's that simple. We don't hide the BIOS information behind a logo during boot sequence, and we don't limit the access to it either. Instead we set every system's BIOS configuration for maximum performance. As a result, you get your system ready for action out of the box. It is your machine and if you wish to take it to the extremes by overclocking - it is your right to do so. Keep in mind however, you're doing it at your own risk.
(There are limits to every product and we urge to use caution.)




New Technologies

4K Resolution:
---
4K revolutionizes the way you view your games by adding four times as many pixels as commonly used 1920x1080 screens, opening your eyes to rich, superbly-detailed worlds. If you have a high-end Extreme PC, you're ready for the revolution. Just plug and play and you'll immediately receive a flawless, jaw-dropping experience.


High Bandwidth Memory:
---
Another first for AMD with High Bandwidth Memory (HBM)
Introducing HBM, a new type of memory chip with low power consumption, ultra-wide communication lanes and a revolutionary new stacked configuration. HBM's vertical stacking and fast information transfer open the door for truly exciting performance in innovative form factors. And GPU applications are just the start – look for HBM's superior power efficiency and space savings to spark industry-wide innovation.
Virtual Reality Gaming:
---
If you've been around the world of games and tech for a while, it's natural to be just a little cynical about the new wave of virtual reality. It was 20 years ago that consumer-level VR last looked likely to touch down, and if you got burned by Nintendo's ill-fated Virtual Boy or dropped a bundle on the VFX1 Headgear, then you're likely to be looking at the new crop of VR technology with some skepticism.

That was then, and this is now. Introducing the latest in VR technologies the Oculus Rift, and HTC VIVE.

It turns out that your desktop frame rate simply isn't enough. While 60fps is more than acceptable on the desktop, for VR — in which the screen isn't a couple of feet away but right in front of your eyes — to appear smooth requires at least 90fps. You may not consciously notice the difference, but your optic system is a lot more sensitive than you realize. Up close, it takes an uninterrupted 90fps or better to receive seamless visual input rather than a succession of flickering, headache-inducing still images.


Free-Sync & G-Sync:
---
No stuttering. No tearing. Just gaming.

AMD FreeSync™ technology puts an end to choppy gameplay and broken frames with fluid, artifact-free performance at virtually any framerate. Behold the next breakthrough in PC gaming performance. The FreeSync™ technology in select AMD APUs and GPUs resolves the communication issues between processor and monitor, eliminating image tears and choppiness for effortlessly smooth gameplay.


Low Framerate Compensation (LFC)
LFC is an exciting new feature of Radeon Software that effectively extends the refresh rate range of many AMD FreeSync™ displays, enabling pristinely smooth gaming down to 30 FPS or less. Many popular AMD FreeSync™-ready monitors automatically use LFC when Radeon Software Crimson Edition (or later) is installed.


G-SYNC
NVIDIA G-SYNC is groundbreaking new display technology that delivers the smoothest gaming experience ever. G-SYNC's revolutionary smoothness is achieved by synchronizing display refresh rates to the GPU in your GeForce GTX-powered desktop or notebook, eliminating screen tearing and minimizing display stutter and input lag. The result: scenes appear instantly, objects look sharper, and gameplay is super smooth, giving you a stunning visual experience and a serious competitive edge."


High Refresh Rates:

---
144hz Refresh Rate Monitors
Gaming monitors refresh screens 144 times per second – 2.4 times faster than conventional 60Hz displays, producing natural-looking and blur-free in-game movements. Perfect for fast-paced racing and FPS games, experience ultra-smooth action in everything you do.

Having the advantage of 144hz is almost like cheating. Seeing 2x what your opponent see's in game is an immense advantage. With a high refresh rates you can move around your game able to see every detail at all times - even when your running or spinning around. This gives you the drop on anyone using a low refresh rate display. If you game competitively - 144hz or higher is a MUST!


EXTREME PC TEAM

Team XPC works for you, you're the boss. You won't be dealing with anonymous overseas agents that don't know you or what your system specs are. This dedicated team consists of the same knowledgeable veterans and knowledgeable system integrators that build and test our units in the XPC factory in Guelph, ON. Personalized service doesn't get any better.


- Extreme PC is 100% Canadian owned and operated.